Commercial Overhead Door & Dock
Installation & Repair
If you need commercial overhead door service or repair, Lensing Garage Doors is ready to serve you. We sell, install, replace and repair everything from commercial sectional overhead doors to counter shutters, security grilles, roll-up sheet doors, fire doors and more. We are a family-owned overhead door company with a history dating back over 70 years. Our team has the knowledge and experience to handle all your commercial overhead door service needs.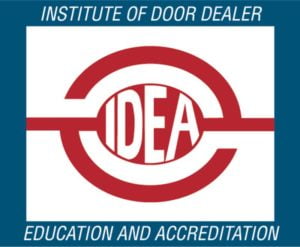 IDEA Certified Installers & Technicians
The Institute of Door Dealer Education and Accreditation (IDEA) certifies professionals in a variety of disciplines in the door, access systems and automated vehicular gate industries. All of our installers and technicians demonstrate an exceptional level of knowledge on technical, regulatory and safety issues.
Common Commercial Overhead Door Repairs
If your overhead door is experiencing failure, or you're noticing jerky movement, stalling or unusual noises, it's time to take a closer look
. Here are five of the most common commercial garage door repairs you might need.
Damaged rollers: 

The rollers are wheels attached to each panel of the garage door to help it glide along the tracks

. They are usually metal or nylon. Plastic and nylon rollers may wear down with time, making them smaller and more likely to pop off the track. Metal rollers are subject to rust. Damaged rollers will need replacement

.

Broken torsion spring: Some garages have a torsion spring, which you'll find horizontally above the door. The spring uses tension to lift the door up and down. They usually last 10,000 cycles, with each cycle being one up-and-down movement. Torsion springs can also rust, especially in humid conditions. A broken torsion spring can be dangerous if not repaired quickly, so call us immediately if you notice problems with the torsion spring.
Damaged cables: Your garage will operate using either torsion or extension springs. If you have a torsion spring, a broken cable means the door will not move. If you have extension springs, which are on the horizontal part of the track, the cables are an added safety feature. If you have a torsion-spring garage, listen for squeaks and look for shaking, which can indicate damage. If you have extension springs, inspect the cable for fraying, rust or pinching. If you find damaged cables, have them replaced.
Misalignment: 

Your garage door travels up and down by moving along the metal tracks on either side. If the tracks become misaligned, dented or bent, the door may not be able to move up and down. If you catch the problem early, you can usually have the tracks straightened out by a professional. If it goes unfixed, you may end up replacing the entire door.

Panel damage: The panels of the overhead door can become damaged after heavy impacts. If only one or two panels have become damaged, you can have them replaced. Otherwise, you'll need to replace the entire door.
Our Commitment
Our commitment is to provide your company excellent quality and service for your commercial overhead doors & docks. Whatever your particular needs are, we would like to work with you to ensure that you get a durable and functional setup.
Contact us today by calling (812) 423-6891 for more information and to schedule a free consultation.