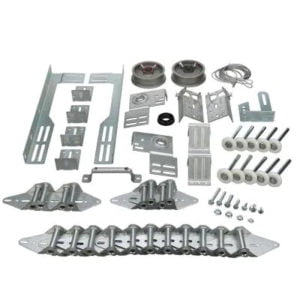 Having the right garage door parts on-hand is part of the Lensing Garage Doors difference. In the process of conducting routine maintenance or a repair to your doors, our certified technicians have access to all the standard parts needed to get the job done as quickly as possible.
Garage door systems aren't the most complicated things on the planet, but they aren't just a door and electric opener either. Modern systems are made up of over a dozen different essential parts and any one of them can affect the operation and safety of your door.
While some home improvement projects can be completed safely by an experienced DIYer, many garage door repairs require professional training.  This is for your safety and the longevity of your doors.
Here are some of the parts that need to be checked and maintained on a regular basis:
Rollers – These are the wheels that run along the metal tracks on each side of your door(s).
Hinges – Door hinges can become worn out over time and potentially rusted if exposed to frequent moisture.
Torsion Springs – This is the most common spring you will find on residential garage doors.  This is one of the most dangerous parts to replace!
Cables – Cables can fray over time and can cause serious damage to your door(s) if not repaired/replaced.
Opener – Diagnosing a problem with your electric opener can be a challenge, and this should be left to certified professionals.
---
Our Commitment
Our primary commitment is to providing you with the garage doors of your dreams. Whatever your particular needs are, we would like to work with you to ensure that you get a beautiful, durable, and functional garage door that will be the envy of everyone on the block.  Once installed, we want to be your partner in maintaining and repairing your doors.
Contact us today online or by calling (812) 423-6891 for more information and to schedule your repair.