Residential Garage Door Repair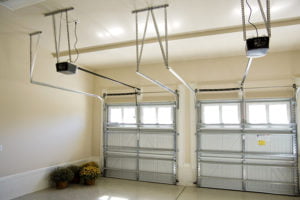 Garage doors can break at any time of day. That's why at Lensing Garage Door we have someone waiting to answer your call. We will schedule your appointment at a time that is convenient for you. Our trucks always carry a full inventory of parts, which means we are prepared to repair your garage door in a single visit.
We repair and replace many commonly broken garage door parts, including: springs, openers, cables, rollers, panels, and more. If you don't know what your problem is, don't worry. Our expertly trained technicians will quickly diagnose the problem and explain it to you clearly before starting any work.
1. Garage door opener won't work
This has got to be everyone's number one issue, and it's something that can be easily fixed. Chain- or drive-screw-operated garage door openers that won't work probably need some lubricant to reduce friction. Apply a generous amount of silicone-based lubricant or garage door spray lube to the garage opener's full length and be sure to wipe off the excess.
2. Annoying, grinding noise
Loose hardware, shabby parts, or squeaky sections—these annoyances are all common problems with simple solutions. Generally, noise coming from your garage door means it needs lubrication. If you notice any unusual noises, try applying lubrication directly on the squeaky part.
3. Cracks or gaps
Cracks are very common, especially for wood garage doors. To keep cracks from worsening, use a waterproof filler or sealant to caulk the cracks.
4. Cracked or broken weather sealant
Weather sealant keeps water out, seals air leaks, and reduces street noise. If your sealant is broken, or you notice any cracks and seams, you may need to replace it. Remove the old weather sealant and install a new one. Weather sealants are available at your local home improvement store.
5. Garage door opens a bit then immediately closes
When this happens, it's likely that the springs found at the top of the door need replacing. If you replaced the garage door springs within the last three years, you may only need to replace the broken ones.
Pro-tip: To save on costs, we recommend that you replace all springs at the same time—replacing broken springs separately could double the cost of this garage door repair.
6. Door closes then immediately opens
There could be an issue with the alignment of your garage door's photo-eye. Photo-eyes are small plastic devices that serve as a safety feature and are located on both sides of the garage door.
To confirm that the photo-eyes are working properly, look for a flashing green light on the device. Otherwise, check to see if there is debris or other obstructions in front of the photo-eyes.
After confirming that the photo-eyes haven't been misaligned, you then need to measure from the ground up all the way to the center of one photo-eye. Take another measurement, this time from the wall up to the center of the photo-eye. Do the same on the other photo-eye. Finally, adjust both the photo-eyes following the measurements you took, ensuring they are aligned.
7. Garage door doesn't seal all the way to bottom
The best solution to this is to use pipe insulation and securing it into the part of the door that doesn't properly seal. You can buy pipe insulation at your local hardware store.
8. Garage door remote is broken
Nothing gets more common than this typical of mechanical issue. The first thing to do is to check if it's battery-related. Are your batteries properly inserted or do they need replacing? If this doesn't fix the issue, you may need to refer to the manual and see how to reprogram the remote.
9. The garage door opener or operator is unresponsive
Whether you're using a wall controller, remote, or keyless entry, an unresponsive operator could mean there's an issue with the photo-eyes. If there aren't any signs of light on the photo-eyes, go to the breaker panel, locate the breaker, and try turning it on and off. If this doesn't fix it, check if the garage door opener is properly plugged in and that there's power supply to it. Test the electrical outlet with a different device to check if it's working.
10. Unsightly and damaging rust formation
Aside from tarnishing the look of your garage door, rust also compromises your door's ability to lock out dirt and other external elements. Rust usually forms when iron gets exposed to air or water for a long period of time. To remove rust, clean the affected area with dishwashing soap first, then rub the rust with a cloth soaked in vinegar. Vinegar is a natural rust dissolver. Sand the rusted part and, if it doesn't negate your garage door's warranty, apply a fresh coat of primer and paint (check with us first!).
You can avoid rust formation with annual maintenance work during spring or fall.
Our Commitment
Our first commitment is to providing you with the garage doors of your dreams. Whatever your particular needs are, we would like to work with you to ensure that you get a beautiful, durable, and functional garage door that will be the envy of everyone on the block.
Contact us today by calling (812) 423-6891 for more information and to schedule your repair.